The question of teacher-student relationships is a tough one. If they'd been banned at Cranbrook Academy of Art, would the world have missed out on one of the great creative relationships of all time, Charles and Ray Eames? Or could the two designers simply have waited the few months until the end of semester to embark on their inevitable journey together, one that lasted from May 1941 until Charles's sudden death in 1978 and produced not only furniture but industrial design for WWII, hundreds of films, toys and graphic design.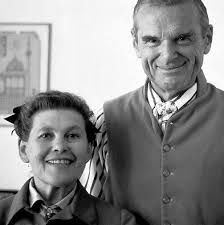 Lately, I've been reading about Case Study House #9, aka the Eames House, the interior of which is a true sensory and sensuous delight. Ray (a nickname for Alexandra) was the visual artist, having begun in NYC as an abstract painter studying under Hans Hofmann, and the home–preserved just as it was when Charles died–is full of objects she collected and arranged that on their own have 'little value' but taken together create a rich and deep variety of colour, texture, rhythm and movement. Flowers–roses, lobelia and Santa Barbara daisies–and plants–ficuses, ferns and philodendrons–line the glass walls both inside and out, blurring the distinction between outdoors and indoors.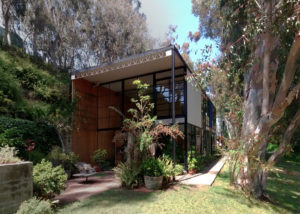 Initially, the Eameses meant to build the house cantilevered out across the meadow, but the war delayed the arrival of their building materials for so long that they ended up spending time on and growing attached to the expanse of grass and thus changed their design so that the home nestled into the hillside. They must have been frustrated at first, sitting on their blueprints for months and then years, but after a while, Ray said they realized that taking down the Eucalyptus trees and covering up the meadow "seemed criminal." The imposed waiting period, in the end, made things better.