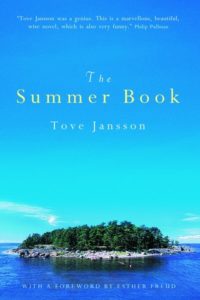 Speaking of books.
Last night, I finished The Summer Book by Tove Jansson, recommended to me by a very smart friend whose suggestions have never let me down. The book follows an elderly grandmother and a very young granddaughter as they spend their summer on a remote and nearly deserted Scandinavian island. Classified as a novel, it reads more like a collection of very short stories about death, fear, loneliness and friendship. But that makes it sound much more serious than it is. In fact, The Summer Book is just like its eponymous season–full of light and warmth, calmly meditative, marked by the occasional storm and stretching idly with a sense of expansion and vastness despite its relatively short length (the summer, never long enough, the book, 171 pages).
Jansson, author of the internationally celebrated children's comic book series about the Moomins, is known for her dry, witty humour and her pragmatic and frank perspective on topics that might suffer under sentiment in a less-skilled author's hands. The book made me genuinely laugh out loud a number of times, always due to the interactions between the granddaughter Sophia and Grandmother. Sophia is curious, dissatisfied and rude and Grandmother is haughty, practical and wise. The two fight often and meanly, while it's clear that they love and need each other more than anything else (Sophia's mother's death is mentioned only once and her father is seen rarely and always working).
My favourite part of the book comes in one of the final stories, when Sophia, on a day trip with Grandmother to the beach, is bored to tears and wishes for a great storm to come and entertain her. Of course, the great storm comes, and it's one of the worst the island has ever seen. Miraculously, no one dies, but the squall causes significant damage to homes and boats. Highly distraught, Sophia wails to her grandmother that she deserves divine punishment for having prayed for the storm and bringing this wrath upon her family and community. The grandmother tries to console her, unsuccessfully, until she, with a profound and gentle grace, tells Sophia that it was in fact she herself, the grandmother, who'd prayed for the storm first.
"When did you pray?" asked Sophia suspiciously.
"This morning."
"But then why," Sophia burst out sternly, "why did you take along so little food and not enough clothes? Didn't you trust Him?"
"Yes, of course…But maybe I thought it would be exciting to try and get along without…"
Sophia sighed. "Yes," she said. "That's just like you. Did you take your medicine?"
"Yes, I did."
"Good. Then you can go to sleep and stop worrying about all the trouble you've caused. I won't tell anyone."
"That's nice of you," Grandmother said.