"Discovered"
"The Train Seemed to Take Forever to Come, a Trick of Perception"
Yesterday, I woke up with an intense urge to re-read one of my favourite short stories of all time, "Writing in Light" from Doretta Lau's strange and memorable collection How Does A Single Blade Of Grass Thank The Sun? I first read this book in 2014, and I remembered that I'd enjoyed "Writing in Light" for the narrator's singular voice and for Lau's deft weaving of fictional storytelling elements with art theory. At the time, I was new to my process of art autodidacticism (still am, probably always will be) and she helped pique my interest in both narrative craft and art history. 
"Writing in Light" follows a young woman on a New York City subway ride from her apartment (where her ex thinks perhaps an episode of Law and Order was filmed?) to a small art gallery (that the narrator had read about months before in the The New Yorker and remembers only that the owner resisted the exodus to Chelsea). As she journeys, we learn about her encounters with a particular artist, Jeff Wall, and some of his works, namely Double Self Portrait, Ventriloquist at a Birthday Party October 1947, and The Destroyed Room. We learn how her curiosity about and study of staged photography has helped her settle some conflicts in her own mind about performance and appearance–what sort of work should she, a descendent of manual labourers, do? What sort of social life should she, a self-proclaimed awkward introvert, have?
We are aware throughout the piece that the narrator is, like Wall, also constructing an image, a life. We sense she does this not in order to 'impress' or 'cope,' but in order to 'pass,' unnoticed, akin to how a Jeff Wall image can, at a cursory glance, pass as documentary photography instead of what it actually is: meticulously planned, intensely staged, the final image selected from what could be hundreds of different shots from different angles.
I'm reminded of this passage from the essay "Lightbox Paradox" by my friend and photographer David Evans, about the impact the advent of conceptual photography had on the medium in general: "Photographs are very disturbing. When we want the truth from them they deceive us, and when we want beauty, they can be cold and objectifying. People are not always happy to be confronted with the unvarnished truth, especially those for whom the truth might prove embarrassing. Photographs makes us a little uncomfortable because they are machine made, beyond human control. The vast majority of photographs, (snapshots of family, friends, and pets, travel souvenirs, and of course, selfies) are essentially unmediated. Advertising photography, and cinema is, of course, entirely staged. For the most part, I would argue, people are able to discern the difference quite easily, just as, face to face, people are able to distinguish a forced smile from a genuine one."
I think here, Evans gives "people" a little too much credit. Perhaps he pays enough attention to know when someone is forcing a smile (and he does), but I would argue (and maybe Lau's narrator would, too), that for the most part, we don't.
"You Shall Make Me Feel What Periods You Have Lived"
On Sunday evening on my way home from a birthday celebration where I drank very good Lambrusco and waited for but never received a tarot reading, I came upon this sign affixed to a tree. Each of the quotes pertains to nature, which I thought showed an impressive perspicacity on behalf of the (I'm assuming) child or children who conceived of the idea. Narrowing the focus of the wide world of inspirational aphorisms and sage admonishments to one central and timely (the sky filled with smoke) theme showed a precocious knack for branding. I chose the Emerson quote, "The creation of a thousand forests is in one acorn."
Out of context, these words are motivational: "Plant the seed of your skills and talent now, and who knows what legacy you'll leave behind?" Within the context of Emerson's essay "History," they mean something…more. The thousand forests represent all of history, and the acorn represents one individual's mind. For Emerson, this universality is, well, universal, as he repeats the pattern throughout: "(A) poet makes twenty fables with one moral," and "Nature is an endless combination and repetition of a very few laws," and, et cetera.
He finishes the essay with a sort of call to action: "Broader and deeper we must write our annals, — from an ethical reformation, from an influx of the ever new, ever sanative conscience, — if we would trulier express our central and wide-related nature, instead of this old chronology of selfishness and pride to which we have too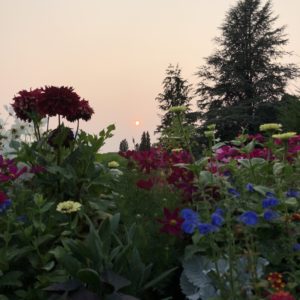 long lent our eyes."
Afterward, I stopped in the cemetery and took photos of the anemones, the cosmos, the dahlias and–framed by a Douglas fir and larch–the fiery setting sun.
"The Truth Matters"
This week, former Director of Communications for the Office of Public Liaison Omarosa Manigault has been releasing compromising recordings of President Donald Trump and his staff leading up to the release of her book about her time in the White House, Unhinged.
In response, Trump has called her a "dog" and a "crazed, crying lowlife."  Today, CBS's Gayle King told Manigault that her release of the tapes "almost feels like a form of blackmail."
"I'm not asking for anything," Manigault responded.
Except for a few more people to buy her book, perhaps. Which–unlike blackmail–isn't a crime.
"To Yield and Not Break"
In Hannah Gadsby's avant-garde comedy special Nanette, she uses art history as an unexpected rhetorical device illustrating two truths: the legacy of misogyny in popular culture and the incredible ability of abuse victims to "yield and not break." Without giving away one of my favourite moments of her performance, I can say that, weeks later, I'm still thinking about how she flipped the script on the "tortured artist" stereotype and reframed it as a misconception: artists make art not because they are in pain but because they have enough of a support system to encourage their healing.
The other day my student and I were reading about Yayoi Kusama, and I watched her eyes grow wider and wider as she learned about the various abuses Kusama withstood throughout her lifetime. From her 2003 autobiography, Infinity Net: 
Themes of sex and fear show up in a significant amount of Kusama's work, and we don't have to guess at their meaning; she writes and speaks explicitly about art as a way of coping with the traumas she's endured. As a child, her mother forced her to follow her father when he left the house to meet one of his many mistresses. She wanted Kusama to spy on her father having sex, but he always managed to evade her before reaching his destination. Kusama says she witnessed a sex act as a toddler and that, due to her having been taught that sex was shameful and something to hide, she perceived it as inherently violent. She made phallic-centric art as a way of healing through self-obliteration: "I make them and make them and then keep on making them until I bury myself in the process."
The point is, before Kusama made this art in NYC, she lived in Matsumoto, Japan. One day in a secondhand bookstore, she found a collection of Georgia O'Keeffe paintings and was so excited by her work that she traveled six hours to Tokyo to the American Embassy to seek out O'Keeffe's address. Miraculously, she found it. She wrote the artist and included several of her own watercolours. When O'Keeffe responded with encouragement, Kusama became determined to move to America. She left Japan in 1957.
She was very poor when she arrived in New York City. She lay awake winter nights underneath one blanket, no heat, next to a broken window. She ate discarded fish heads and rotten cabbage soup for dinners. In 1958, with no more money to buy art supplies, she wrote O'Keeffe again and invited her to her studio. Again, O'Keeffe answered and, upon seeing what Kusama was working on, brought her own dealer, Edith Halpert, who purchased one of her pieces. With that money, Kusama bought canvas and paint and created her first Infinity Net, a piece that led to her first solo show Obsessional Monochrome in 1959.
The point is, artists make art not because they are in pain but because they have enough of a support system to encourage their healing. Romanticizing the effects of abuse allows us to tolerate abusers, which is probably one of the reasons we do it. It's much easier to tolerate abuse, to normalize it, to look away, to say "thanks for the art it gave us," than it is to intervene.
Room Magazine invited me to be their feature interview for their Summer 2017 issue, and I was lucky enough to talk about PEDAL with writer and editor Navneet Nagra. If you don't already subscribe to Room, you should. This issue also features fantastic stories from fellow friends and writers Carleigh Baker and Erika Thorkelson.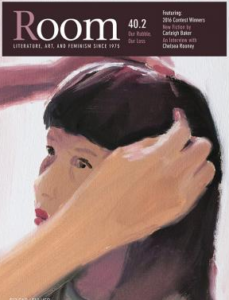 Writer and editor Nav Nagra joins me to talk about her upcoming Migration issue with Room Magazine. Listen here!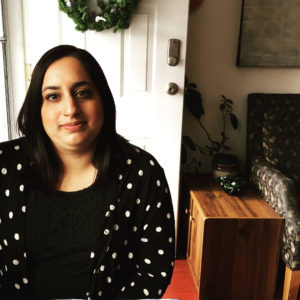 Jordan Weir from Feminist Book Club wrote a new review for PEDAL and it's pretty great. "It will shock you at first, but it's worth it." Check it out here.

Shazia Hafiz Ramji is the new poetry editor for PRISM International and has just won the 2017 Robert Kroetsch for Innovative Poetry. Her poetry chapbook Prosopopoeia is available with Anstruther Press, and her full-length collection Port of Being will be out next year. We chatted about addiction, depression, writing and UBC. Listen.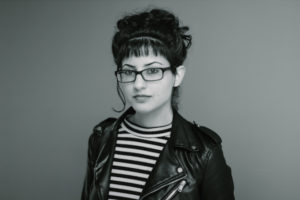 As a Visiting Fellow for the Kuldip Gill Writing Fellowship, I returned to the University of the Fraser Valley and spoke to Trevor Carolan's class about the fine line between fiction and fact.